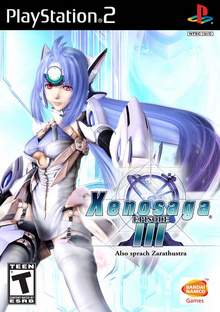 Xenosaga Episode III: Also sprach Zarathustra (ゼノサーガ エピソードIII ツァラトゥストラはかく語りき) is a role-playing video game for the PlayStation 2, and the third game in the primary Xenosaga trilogy. Also sprach Zarathustra, literally "Thus spoke Zarathustra", is also the title of Friedrich Nietzsche's most famous work. The game was originally released on PlayStation 2 on July 6, 2006 in Japan and on August 29, 2006 in North America.
English Voice Cast
Additional Voices (Uncredited)
Community content is available under
CC-BY-SA
unless otherwise noted.