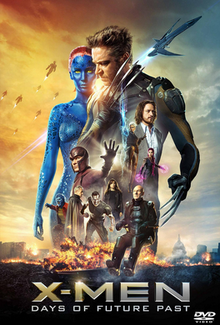 X-Men: Days of Future Past
is an American superhero film, based on the fictional X-Men characters appearing in Marvel Comics and on the 1981 Uncanny X-Men storyline "Days of Future Past" by Chris Claremont and John Byrne. Directed by Bryan Singer, it is the seventh film in the X-Men film series. The film was shot in 3D and was released on May 23, 2014.
The films Stars: Hugh Jackman, James McAvoy, Michael Fassbender, Jennifer Lawrence, Halle Berry, Nicholas Hoult, Anna Paquin, Ellen Page, Peter Dinklage, Shawn Ashmore, Omar Sy and Ian McKellen, Patrick Stewart.
ADR Voice Cast
Community content is available under
CC-BY-SA
unless otherwise noted.