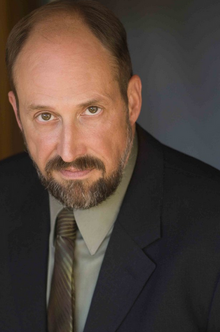 William Lewis Salyers
(born August 16, 1964) is an American voice actor.
Animation Voice Work
Animation
Avengers Assemble (2016-2017) - Council Member#3 (ep76), Truman Marsh
Justice League: Action (2016) - Virman Vunderbar (ep6)
Regular Show (2010-2016) - Rigby, Announcer (ep217), Bell Hop (ep30), Big Fat Guy (ep187), Big Voice (ep225), Biker 1 (ep185), Braeden (ep183), Bum 3 (ep172), Charlie (ep179), Clerk (ep5), Clerk (ep219), Colonial Party Horse (ep179), Cricket #3 (ep13), Crowd Guy (ep17), Dale (ep177), Delivery Guy (ep182), Dude (ep12), East Pines Guy 2 (ep173), Employee 2 (ep220), Exec (ep176), Game Store Worker (ep176), Game Voice (ep172), Grump Ear (ep215), Guy (ep13), Guy #2 (ep14), Jury 3 (ep215), Kokei (ep217), Lawyer (ep161), Lost Boyfriend (ep220), Lucy (ep177), Maintenance Worker (ep216), Man #3 (ep4), Marketing (ep186), Mr. Chamberlain (ep174), Old Man (ep222), Police Chief (ep180), Rich Guy (ep17), Sabertooth Wolf (ep223), Screen Announcer (ep218), Ski Employee 1 (ep187), Sun (ep180), TV Announcer (ep221), Voice-Over Reporter (ep175), Waiter (ep139), Waiter 3 (ep161), Wallace Marco (ep222), Wayne (ep181), Worker (ep225)
Direct-to-Video Movies
Movies
Movies - Dubbing
Shorts
TV Specials
Web Animation
Audiobook/Comic Voice Work
Audio Drama
Live-Action Voice Work
Web Series - Dubbing
Video Games
android/iOS Games
Video Games
Video Games - Dubbing
Trivia
Number of VA titles on this wiki: (72)
Number of VA Dubbing titles on this wiki: (7)
Years active on this wiki: 2008-2020.
Community content is available under
CC-BY-SA
unless otherwise noted.