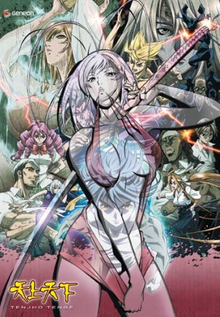 Tenjho Tenge
(天上天下) is an anime television series based on the manga created by Oh Great! The series originally aired in Japan between April 1, 2004 and September 16, 2004, consisting of 26 episodes. The series was released in North America on DVD by Geneon Entertainment Inc. between March 29, 2005 and June 20, 2006.
English Voice Cast
Main Cast
Secondary Cast
Minor Cast
Adam Nagata - Man with Bat (ep6)
Akira "Mark" Fujita - MIB Agent (ep18), Pei (ep12)
Chris Kent - Businessman B (ep5), Shinobu Kagurazaka
Dave Mallow - Shiro Tagami
David Keifer - Iwao
Derek Stephen Prince - Tsutomu Ryuzaki
Dorothy Fahn - Nurse (ep14)
Doug Erholtz - Kato
Doug Stone - En Chikaze (ep22), Tetsu (ep12)
Ethan Murray - Fu Chen
George C. Cole - Koji Sagara
J. Garcia - Kanakita (ep16)
Jack Bauer - Eyebrow, Man with Cap (ep7)
James Brooks - Kaiba Natsume
Joey Capps - Masked Guy (ep4), Senior Students (ep1), Wrestler B (ep2), Yasuji (ep12)
John Smallberries - Teacher A
Julie Ann Taylor - Female Server (ep1)
Karen Thompson - Chick, Maya & Shin's Mother (ep20)
Kirk Thornton - Senior Students (ep1), Wrestler A (ep2)
Kurt Strauss - Businessman A (ep5), Senior Students (ep1)
Lex Lang - Ishimatsu, Senior Students (ep1)
Mia Bradly - Makiko Nagi
Michael McConnohie - Tengu (ep25), Todo
Michael Sorich - Wutan
Peter Doyle - Assassin (ep25), Keybo (ep10), Male Student (ep15), Student A (ep26)
Phil Meyers - Kuzu
Sam Regal - Dan Inosato (ep22), Sanada (ep10)
Steve Kramer - Dougen Takayanagi
Community content is available under
CC-BY-SA
unless otherwise noted.