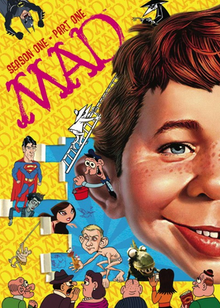 MAD
is an American animated sketch comedy produced by Warner Bros. Animation. The series was based on Mad magazine. The series premiered on the evening of September 6, 2010 on Cartoon Network. The series ended its 3-year run on December 2, 2013.
Starring the Voices of
Diedrich Bader - Narrator (ep6)
Jeff Bergman - Daffy Duck (ep90)
Chris Cox - Dean Cain (ep78)
Grey DeLisle Griffin - Demi Lovato (ep7), Dr. Allison Cameron (ep11), Jenni "Jwoww" Farley (ep11), Megan Fox, Mitchie Torres (ep8), Narrator (ep8), Nyota Uhura (ep4), Rachel Berry (ep4), Rejected Narrator (ep10), Sam Puckett (ep7), Sarah Walker (ep12), Velma Dinkley (ep91), Yukio (ep101)
Barry Dennen - Master Shifu (ep86)
Keith Ferguson - Indiana Jones (ep12)
Quinton Flynn - Jack Harper (ep86)
Will Friedle - Owen Lars (ep53)
Gilbert Gottfried - Abraham Lincoln (ep79)
Tom Kane - Morgan Freeman (ep67)
Stan Lee - Papa Smurf (ep83)
Matthew Lillard - Shaggy Rogers (ep91)
Jason Marsden - Edward Cullen (ep7), Flint Lockwood (ep5), Freddie Benson (ep7), Ty Pennington (ep5), Zeke (ep10)
Rob Paulsen - Irish Scream Shampoo Announcer (ep82), Thénardier (ep82)
Dana Snyder - Gargamel (ep83), Goomba (ep7), Gustavo Rocque (ep7), Klaus (ep8), Narrator (ep4), Narrator (ep7)
Kath Soucie - Rainbow Dash (ep79)
Stephen Stanton - Agent J (ep71), Grinch (ep12), Judge Mantis Narrator (ep12), Whoville Narrator (ep12)
Tara Strong - Eve Torres (ep78)
Cree Summer - Neytiri (ep1), Sam Puckett (ep1), Thumper (ep1)
Fred Tatasciore - Darth Vader (ep78), George Washington (ep90), Jake the Dog (ep83), John Casey (ep12), Robert Langdon (ep12)
Frank Welker - Fred Jones (ep91), Garfield (ep73), Scooby-Doo (ep91)
Billy Dee Williams - Lando Calrissian (ep50)
Gary Anthony Williams - Count Dooku (ep2), Optimus Prime, Narrator (ep3), Shaquille O'Neal (ep11), Trailer Narrator (ep8), Trailer Narrator (ep11)
Keone Young - Shingen Yashida (ep101)
Community content is available under
CC-BY-SA
unless otherwise noted.