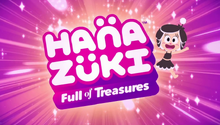 Hanazuki: Full of Treasures
is an American animated children's web series produced by Titmouse, Inc. and Hasbro Studios. The series is based on characters and concepts developed by Hanneke Metselaar and Niko Stumpo. The series premiered on YouTube on January 12, 2017.
Starring the Voices of
Main Cast
Secondary Cast
Minor Cast
Alison Martin - Chicken Plant, Offspring (ep8), Tree#2 (ep11)
Avery Kidd Waddell - Classy Diamond (ep15), Tree#3 (ep11), Twisted Unicorn
Cassandra Morris - Kiazuki
Debi Derryberry - Little Unicorns, Orangecorn (ep23), Redcorn (ep23), Yellowcorn (ep23)
Lucien Dodge - Chicken Plant Baby (Junior; ep16)
Marcus Toji - Maroshi
Michael Sinterniklaas - Black Trees (ep19), Dark Green Hemka, Giant Mouth (ep5), Landscape Item#1 (ep13), Landscape Item#2 (ep13), Lavender Hemka, Light Blue Hemka, Mazzadrill, Mountain (ep2), Orange Hemka, Pink Hemka, Purple Hemka, Pyramid with a Face, Red Treasure Tree (ep3), Treasure Tree (ep27), Treasure Trees (ep24), Tree#1 (ep11)
Nika Futterman - Flochis, Wanderer
Pat Fraley - Doughy Bunington
Shondalia White - Mirror Plant
Trevor Devall - Basil Ganglia
Vargus Mason - Kiyoshi
Community content is available under
CC-BY-SA
unless otherwise noted.