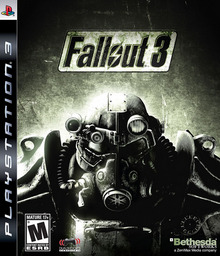 Fallout 3
is an action role-playing open world video game developed by Bethesda Game Studios, and is the third major installment in the Fallout series. The game was released in North America, Europe and Australia in October 28, 2008 for Microsoft Windows, PlayStation 3 and Xbox 360.
Voice Cast
Dad - Liam Neeson
President Eden - Malcolm McDowell
Narrator - Ron Perlman
Amata - Odette Yustman
Stanley, Hannibal Hamlin, Sergeant RL-3 - Jeff Baker
Elder Lyons - William Bassett
Mom, Moira - Karen Carbone
Grouse - Johnny Contino
Three Dog - Erik Todd Dellums
Nathan, Abraham Washington, Tree Father Birch - Paul Eiding
Beatrice, Reilly, Star Paladin Cross - Shari Elliker
Colonel Autumn, Confessor Cromwell - Peter Gil
Jonas, Dave, Pinkerton - Gregory Gorton
Overseer, Dukov, Scribe Rothchild - Duncan Hood
One Year Baby - Jake Howard
Lucy West, Clover, Sierra Petrovita - Jan Johns
Mr. Burke, Fawkes - Wes Johnson
Young Amata, Maggie, Lucy - Stephanie Joy
Young Paul Hannon - Luke Lafferty
Mr. Brotch, Jericho, Eulogy Jones - James Lewis
Young Wally Mack, Harden Simms - Sean McCoy
Sentinel Lyons - Heather Marsden
Doctor Li - Jennifer Massey
Timmy Neusbaum - Cullen Pagliarulo
Chief Gustavo, Paladin Vargas - Pete Papageorge
Colin Moriarty, Doctor Lesko, Charon - Mike Rosson
Andy, Mister Buckingham, The Great One - Stephen Russell
Butch, Harkness - Craig Sechler
Old Lady Palmer, Agatha, Margaret Primrose - Diana Sowle
Young Butch, Mayor MacCready - Jakob Stalnaker
Betty - Corrieanne Stein
Armitage, Butcher, Paladin Gunny - Gus Travers
Allistair Tenpenny - Charlie Warren
Tulip, Greta, Carol - Audrey Wasilewski
Lucas Simms - Greg Williams
Community content is available under
CC-BY-SA
unless otherwise noted.