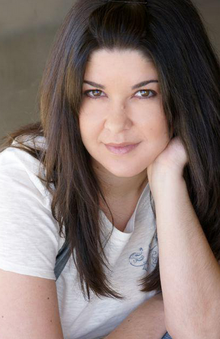 Colleen Smith Clinkenbeard (born April 13, 1980 in Shreveport, Louisiana) is an American ADR director, ADR script writer, line producer and voice actress. She's married to voice actor Patric Carroll.
She's known for voicing: Erza Scarlet in Fairy Tail, Gohan in Dragon Ball Z Kai, Monkey D. Luffy in One Piece, Rachel Moore in Case Closed, Riza Hawkeye in Fullmetal Alchemist and Fullmetal Alchemist: Brotherhood and Yuko Ichihara in xxxHolic.
Animation Voice Work
Animation
Web Animation
Anime Voice Work
Anime - Dubbing
Anime Shorts - Dubbing
Anime Specials - Dubbing
Movies - Dubbing
OVA - Dubbing
Streaming Television Series - Dubbing
Video Games
Video Games
Video Games - Dubbing
Trivia
Number of VA titles on this wiki: (285)
Number of VA Dubbing titles on this wiki: (267)
Years active on this wiki: 2004-2020.