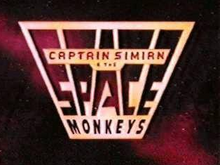 Captain Simian & the Space Monkeys
is an American animated television series. The show premiered on September 7, 1996 and ended after 26 episodes on June 21, 1997. It was produced by Hallmark Entertainment, Monkeyshine Productions.inc, and distributed by Bohbot Entertainment and aired as part of a syndicated animation block known as BKN.
Starring the Voices of:
Andrea Thompson - Lilith (ep4)
David Warner - The Glyph (ep20)
Ellen Gerstell - Commander Gril (ep18), Doctor Kleb (ep13)
Frank Welker - Apax
Jeff Glen Bennett - Aranus (ep16), General Vot (ep13), Isaac (ep22), Lago (ep15), Number One (ep18), Wokra (ep23)
Jerry Houser - Larnus (ep16), Tranus (ep16)
Maurice LaMarche - Holo-boon 3462838 (ep12), Kaz-Par (ep19), Matrix, Olram (ep23)
Oliver Muirhead - Grxylph (ep5), The " "
René Auberjonois - Alien Gladioluses (ep21), Gardener (ep21)
Tress McNeille - Vel-Dar (ep19)
Special Guest Star:
Community content is available under
CC-BY-SA
unless otherwise noted.